Firstly, we would like to say Merry Christmas and a Happy New Year. This festive season is, as we know, in testing and difficult times for us all, so we hope that you can enjoy it as best as you can.
We are planning to take a short break from the website until some point in the early New Year, after several weeks devoted to creating and launching the website. But we have added some new texts in the meantime for you to enjoy as our Christmas present to you.
SONGS OF THE IRISH REBELS
We are proud to announce that Pádraig Pearse's Songs of the Irish Rebels is now available in both PDF and text-on-page format.
Collected poems from the sixteenth and seventeenth centuries during Ireland's struggles against English invasion and domination. Most poems deal with this theme directly or indirectly, though a few poems were added simply to showcase the author's poetic mastery. Each poem is accompanied by Pearse's English translation, which is quite literal and prosaic, in his own words. The poems included, especially in their original Irish, offer some of the finest examples of Ireland's cultural output.
The PDF version features a new cover page design, and has a side-to-side Irish/English format, the Irish being written in the traditional Seanchló font, both of which are pictured above.
ROSSA'S RECOLLECTIONS: 1838 TO 1898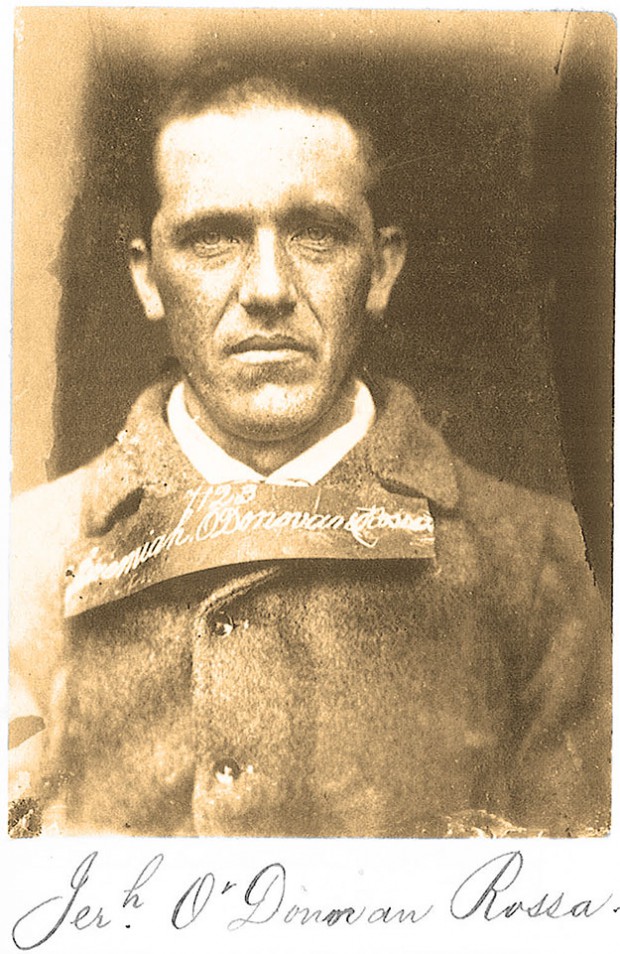 "And why shouldn't an Irishman be mad; when he grows up face to face with the plunderers of his land and race, and sees them looking down upon him as if he were a mere thing of loathing and contempt!" – The Emigrant Parting – Carthy Spauniach
We are also proud to announce we have published Rossa's Recollections: 1838 to 1898, the memoirs of Jeremiah O'Donovan Rossa, a veteran of Irish nationalism who spent most of his life in struggle against British rule. His memoirs are a recollection of his youth, his family, his activities as a revolutionary, his correspondence with other prominent IRB members such as James Stephens and John O'Mahony, and a collection of short poems and speeches he had written throughout his life also. Rossa's Recollections are a brilliant insight into the life of an extraordinary man, also available in both PDF and text-to-page format.
HENRY JOY MCCRACKEN
"These are the times that try men's souls. You will no doubt hear a great number of stories respecting the situation of this country: its present unfortunate state is entirely owing to treachery. The rich always betray the poor." – Letter to his Sister, 18th June 1798.
Also on the website, we have published the short collection of letters belonging to Henry Joy McCracken, one of the key leaders of the United Irishmen in Ulster, who led the rebels at the Battle of Antrim and was then ultimately captured and hanged.
The letters are mostly from his time spent in Kilmainham Jail from 1796-1797, where he was imprisoned for just over a year without bail for his involvement in the United Irishmen, as well as his command to the Army of Ulster prior to marching on Antrim as well as a final letter to his sister Mary Ann, following the United Irishman's defeat, giving a short yet succinct account of the rebellion's ultimate failure.
"When all our leaders deserted us, Henry Joy McCracken stood alone faithful to the last. He led on the forlorn hope of the cause at Antrim, and brought the government to terms with all but the leaders. He died, rather than prove a traitor to his cause, of which fact I am still a living witness, who shared in all his exertions while he lived, and defy any authentic contradiction of that assertion now, or at any future date." – Memoirs of James Hope, Chapter IV
MEMOIRS OF JAMES HOPE
"Sacred Scripture tells us, that the earth is the Creators, and that he hath given it to the sons of men; by what authority, then, can any earthly creatures cut off the entail? My opinion is, that every such attempt is rebellion against the law of the Most High; and in this opinion I am confirmed by the cause of war, which is the consequence of this lust of the possession of land. No man can have a right to the property of another, which property has been conferred on him by that Lord of the land, who is the Lord of all created things and beings." – Memoirs of James Hope – Chapter VII
We also have the memoirs of James Hope, another prominent figure of the United Irishmen in Ulster during the 1798 rebellion. Hope, a radical even within the United Irishmen for his views on class struggle and the belief that this "social derangement" was the principal cause of the strife in Ulster, gives an account of his involvement with the United Irishmen, his relationship with men such as McCracken, his close encounters with the law, his personal first-hand account of the Battle of Antrim as a rebel, and lays out his political philosophy.
A captivating read from start to finish, and remarkable to hear the vivid recollections of Hope and remarkable also to see the striking similarity between the memoirs of James Hope, by then an elderly relic of '98 and those writings of James Fintan Lalor, the Young Irelander and their diagnosis of the same social derangement, both in the same year of 1847, yet Hope writing of such in the perspective of 1798, showing a man well ahead of his time.
OTHER WRITINGS
Other writings available now include:
Erin's Hope (1897) by James Connolly – A short pamphlet providing a social and class analysis of Irish history, is fairly typical of Connolly's work.
Litir Chuig Mac Cochláin (1600) by Aodh Ó Néill – A letter written in Irish by Aodh Ó Néill (Hugh O'Neill), Earl of Tyrone, believed to have been written to the chief of Westmeath, Seán Mac Cochláin. Myles na gCopaleen: 'an exceptional achievement in the sphere of written nastiness'!
Address to the College Historical Society (1840) by Thomas Davis – A full unabridged version of Thomas Davis's nationalist address to the Hist in Trinity College Dublin.
The North Began (1913) by Eoin MacNeill – A short essay written by Eoin MacNeill in An Claidheamh Soluis, about the Ulster Volunteers.
Remonstrance of the Irish Chiefs to Pope John XXII (1317) by Domhnall Ó Néill – Written during the Bruce campaign of Ireland and the war against the Anglo-Normans, this classic text is one of the earliest assertions of a separate Irish nationality.
That should be all.
From all of us here at Cartlann, Nollaig shona duit!
AN CHARTLANN.